Maintain Your Hydraulic Vertical Shores with Parts and Accessories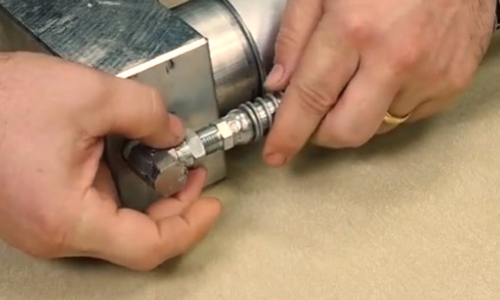 Providing some of the most lightweight, and efficient shoring jacks in the industry, Hydraulic Vertical Shores by Allen Trench Safety are specifically designed to be easy to set up and take down in trenches large and small to for any trenching job whether its plumbing, utility, or municipal work. Sturdy and reliable, Hydraulic Vertical Shores can bring accessible and efficient safety to any jobsite. Trench safety relies on having equipment that is well maintained and functions reliably, and making sure your shoring systems are in proper working order is important for preventing a collapse. If maintenance is required on the hydraulic vertical shoring systems your crew uses, Allen Trench Safety has the replacement parts and accessories you'll need to ensure that your shores continue to work effectively.
Parts to Maintain Your Hydraulic Shoring Jacks
Allen Trench Safety has a full selection of parts available for your vertical hydraulic shoring systems in the event that maintenance is required. From parts like swivel adaptors, pins, male and female disconnects, to hoses and gel filled gauges, you'll be able to find the high-quality components you'll need to maintain your aluminum shoring jacks. Designed to work perfectly with Hydraulic Vertical Shores, these parts are built to last, and will help you to make sure that your aluminum hydraulic shoring systems are in working condition with minimal downtime for maintenance.
Accessories for Operating Hydraulic Vertical Shores
There are other components that are needed for proper operation of hydraulic vertical shoring systems, and Allen Trench Safety understands just how important these accessories are. If you need a replacement, or a spare of any of the accessories used to operate Hydraulic Vertical Shores, Allen Trench Safety has pump cans, release hooks, and release tools available to purchase. With the right accessories you'll be able to operate your hydraulic trench shoring systems with tools.
Hydraulic Vertical Shores provide trench workers with accessible, cost-effective trench shoring systems that help to keep them safe, and Allen Trench Safety can supply you with the parts and accessories you will need to ensure that your Hydraulic Vertical Shores are well maintained and operable. If you are looking for a specific component for your shoring jacks, please browse our available parts and accessories or for more information about the aluminum shoring systems offered by Allen Trench Safety, contact us today!