How Hydraulic Trench Shoring Can Make Your Worksite Safer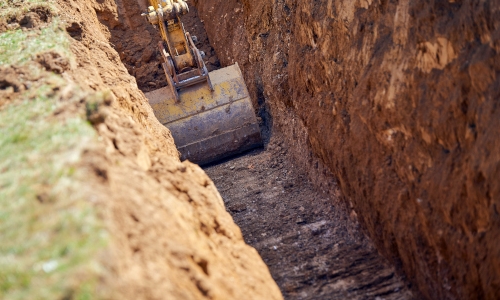 Shoring jacks are a critical tool for ensuring worker safety in excavation and trenching operations. Hydraulic Vertical Shores from Allen Trench Safety has hydraulic shoring jacks to help you keep your workers safe. Designed to be lighter than standard trench boxes and easily operated by two workers, Hydraulic Vertical Shores make an excellent addition to your worksites trench shoring equipment.
When Are Shoring Jacks Necessary?
Knowing when to use trench jacks is essential for anyone involved in any excavation job. Any trench of any depth can cave in, causing delays, but the deeper the trench the greater the risk of a dangerous collapse. Any trench over five feet deep must be shored or sloped to prevent cave ins, so it's important that your workers have access to easily transportable vertical shoring in order to ensure their safety. Where trench boxes work to mitigate the effects of a trench collapse by, our single- and double-cylinder aluminum hydraulic shoring jacks are designed to provide the same level of protection as trench boxes by prevent collapses by compressing the surrounding soil.
Easy to Transport, Set Up, and Take Down
Hydraulic Vertical Shores are made from lightweight aluminum, and are far smaller than standard trench boxes, meaning they're easier to transport to your jobsite. They're small enough to be carried in the back of a truck, and light enough to be lifted by hand. Easily set up by two workers, using Hydraulic Vertical Shores makes the shoring process far quicker, allowing your workers to get their work done more efficiently. With just two shores, a pump can, and a release they're easy to set up, and provide quick safety measures against cave ins and collapses, allowing your crew to resume working quickly. When the job is done, hydraulic shoring jacks are just as easy to take down as they are to set up. With a release tool that allows you to depressurize the hydraulic cylinders from the top of the trench, Hydraulic Vertical Shores can be quickly removed, allowing your crew to finish their work fast.
Shoring jacks are an important piece of trench safety equipment, and with Hydraulic Vertical Shores, your crew will be well equipped to make trenches safer faster. Contact us today for more information on how we can help you with your trench safety needs.