Find Out How Hydraulic Trench Shoring Can Assist You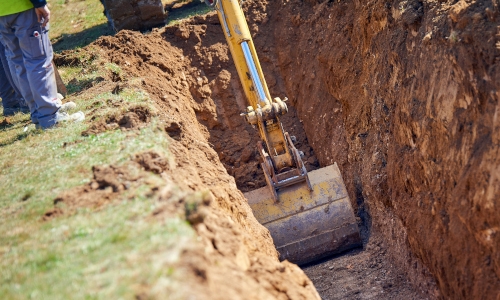 Hydraulic Vertical Shores are the industry's leading experts on hydraulic trench shoring. With more than 12 years of experience of trench safety, our dedicated experts can answer all of your questions about hydraulic trench shoring systems, whether you are looking to switch over to this system or you have questions about how they work or their effectiveness. We have come to depend on the reliability of these vertical shores for a variety of reasons. Let's take a look at some of the reasons why hydraulic trench shoring systems are the right option for your business.
Easy to Setup
The hydraulic trench system consists of just two shores, a pump can, a release hook, and a release tool, making it an absolute breeze to set up. This will save you precious time that can be dedicated towards finishing more important tasks. Plus, costing only about $1550 to $2400, the hydraulic trench shoring system is an economical option for your needs.
Quick Preparation Time
Preparing the pump can before setting up the shores is a simple process. You start by screwing the threaded end of the can's hose into the brass cross found on the top side of the can. This will allow you to prime the pump adding fluid and opening the valve by turning it to the open position. Then, all you have to do to finish is pump the handle a few times. It is that simple.
Assembly Done in a Snap
Now that all of the "difficult" part is completed, you can complete the assembly process of your vertical shores. You can start by removing the banding before separating the small parts and aligning the rails. Once you have the rails aligned properly, you can place the pin by sliding it into the right spot and securing it with a circle cotter. You are now ready to place the last rail on top of the socket pad and place the pin provided into the correct hole. All you have to do from there is to secure the last bit with your circle, and the assembly is finished.
Our professionals at Hydraulic Vertical Shores are dedicated to providing the best trench safety products in the industry. Feel free contact us and let us know if you have any further questions about the hydraulic trench shoring products that we can provide for you.